Hii...Well. I'll start off by thanking this forum for all the information to keep my 28 year old car running. Starting with how i acquired my dream car haha. well to start off i live in a pretty small town down in texas. Where mostly all the imports are hondas. Yes...the riced out civics with fart cannons and ugly useless body kits. hahaha. So about four five yrs ago. .Im driving down the street and i drive up to a light notice the distinct toyota letters on the back of a grey\silver car. follow the car for about a mile....yeah a lil stalkerish i know. haha. Finally he pulls off to a convinience store....and i pull right behind him. As soon as the driver gets out...i ask him if he's interested in selling his car. He laughs and tells me he's been asked that a couple times and he's not down for it. Well figured that was the end of that. Jump to a year later...im at work with a car maggazine...with the picture of a beautiful gt-s on the cover. So im showing the magazine to a co-worker and tell her thats the my dream car. She laughs and says what? My dad has a car like that...i ask her is it grey\silver? She says yeah. So it turns out....her dad was the owner of the car i stalked a year earlier lol. Anyways i tell her to ask her dad if he's willing to sell it now. She says sure. The following week i see her and immediately ask her what he said. She says yeah he wants to sell it. Later that day i drive to her parent's house and i look at it. She wasn't in perfect condition...but running and still some life in her beat up engine. MInimal rust on the lips of the fenders and gas door. Nothing a little fiberglass and TLC couldn't handle. He tells me he want 1,000. Reasonable....up to that point i hadnt seen one in real life other than on mags and the internet. So having no cash...i decide to ask my bank for a loan. My bank being my parents hahaha. They ask what kinda car it is...i tell them its an 84 corolla. The look on their eyes was priceless...they prbbly thought the money was for something newer or at least a car that wasnt so old haha. After some negotiating and begging hahaha...they say ok. Next day i drive with a friend to get my precious car. I give him the money and he hands me the title....i drive off all giddy like a school girl.
Within a month...i start taking care of the worst of the rust. Most of it is in the fenders....take care of those with a ginder and some fiberglass. Then just some primer to keep the rust from spreading. Figured she's at least a litlle better so i start driving her to the local spot on a thursday night. Immediately while driving off the hightway a 240 pulls up and asks me what was up with my 86 lol. Oh yeah....i start feeling that im cool feeling haha. Anyways 10 mins later i pull into a parking lot full of rwd cars. Get stopped by a guy who owns a gt-s. He asks how and when i got it and one of his friends offers me 2,500. Of course i said no. LIke hell im selling this baby. Funnier thing is my friends were in their cars. A nice looking 99 Mustang GT...with full Borla exhaust and reprogrammed computer that was insanely quick. My other friend in a black on black 91 integra.....quick and pretty decent looking for a honda hahaha. Out of all of us only i got compliments on my ride....hahaha. Yeah they couldnt understand why my beat up little car was getting props hahaha. Anyways we get home later that night and i felt like the shit hahaha.
So witinin a couple months i start looking up info on mods and how to repair my ride. I stumble onto this site and it began. Started off with the carb mod. A weber 32\36.....really helped with the hp and gas mileage. Then a new steering wheel....cuz geez the factory one was ugly haha. She breaks down...and having money problems i park her for a couple months. All the while still working on the rust....which had been hiding under some silver paint the previous owner had sprayed over with a can of paint. Finally i decide she should get some new paint. With my dad's help we start looking for rust to repair. Come to find out that the previous owner had stuffed caulking on the spot where the glass meets the top of the roof. We get the glass out of the way and she was bad....most of the metal edge that held glass in place was falling off in pieces. Having a lil welding expirience i girnd out the worst of the rust and pull out the old trusty rod welder. Slowly and patiently we tack on new metal....and finally get something that will hold up the glass. Even it off with some fiberglass and plastic filler. It was a long and slow process but worth it. Finally we sand her down and spray her with some pewter one stage paint. Yeah in the backyard....lol. All we did was put up some or tarps to keep the overspray from getting on the neighbors cars hahaha.
First time i ever painted a car and it came out pretty good. After wet sanding and polisihing her. Which was painful and slow hahahaha. Then just when i thought she was finally done and ready for the road.....the ugliest knocking sound starts coming from the engine bay. Again with my dad's help we pull out the engine to see what it was. Turned out my #4 piston rod bearing failed and spun. Well pull out the crank and start searching for a new one. Try autozone...they dont carry it...Oreillys tells me its a specila order item. Forget that...i go to Advance Auto Parts and they tell me they can have it in a week. Pay 200 dollars and i get it in a week. Ok so me and my dad are pretty good with cars...but never tried to install a crankshaft on an engine. So after some thought we figured we could prbbly handle it. So repair manual in hand and new oil pump and full gasket set we start putiing the engine back together. After about a two days of working on the engine late into the night we finish it up. Next day drop the engine and trans back into place. And to our surprise she turns on on the first try hahaha. Yeah...once again i get that "im the shit" feeling lol.
So all in all....yeah it took almost three years and lots of money to get her where she's at now. But it feels pretty awesome to get up in the morning and see my dream car in my driveway. Yeah shes not fast....or flashy looking. Anyone that looks at her prbbly just thinks its a old car...but what do they know. They prbbly drive hondas hahaha. So here she is....alot of hard work and sweat but she's all mine.[quote][code]
[left][img]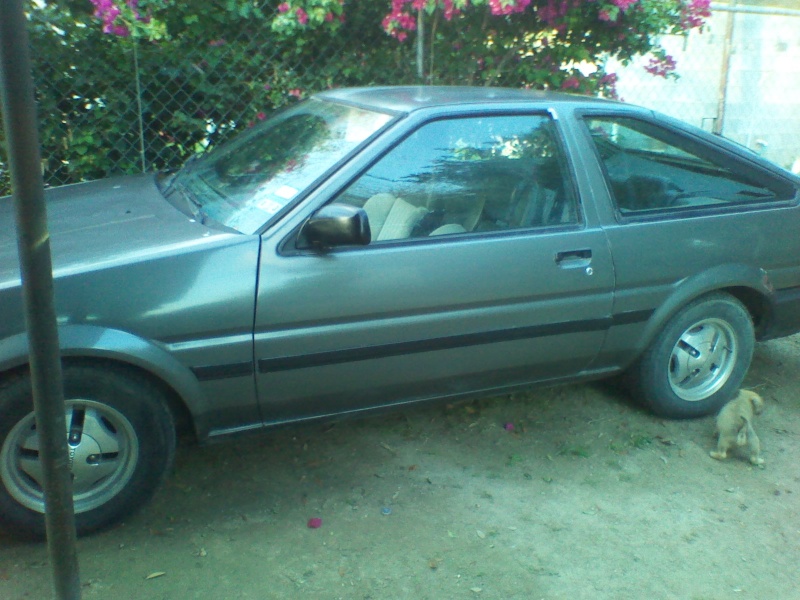 [/img]